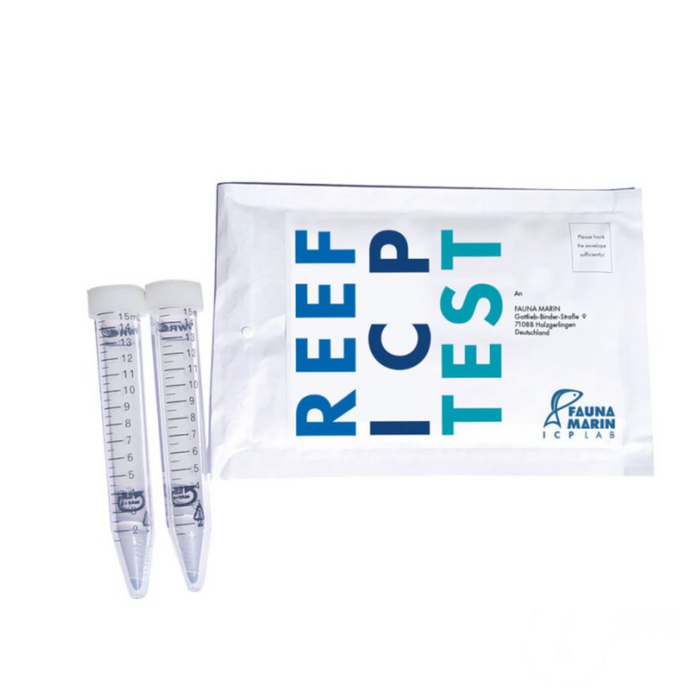 Reef ICP Test | 37 Elements | Fauna Marin
Original price
$25.99
-
Original price
$25.99
Analyze the Most Important Macro- and Trace Elements in Reef Aquariums!
The Fauna Marin Reef ICP Test gives a quick, accurate, and easy overview of 37 water values in reef aquariums. From macro elements to trace elements and pollutants, you get a complete overview with corresponding dosage and action recommendations.

The Fauna Marin Reef ICP Test is a pure ICP-OES test:
Easy sampling
Fast shipping
Extremely fast laboratory analysis with high-performance emission spectrometers (ICP-OES)
Individual dosage and action recommendations
Detected elements:
Sodium, magnesium, calcium, potassium, strontium, boron, iodine, sulfur, phosphate, phosphorus, silicon, manganese, lithium, molybdenum, iron, bromine, chromium, cobalt, beryllium, vanadium, zinc, antimony, copper, barium, selenium, cadmium, tin, aluminum, titanium, nickel, scandium, zirconium, silver, tungsten, lanthanum, arsenic, mercury and more
Why is ICP testing for your water so important?
Research has shown time after time that certain trace elements are necessary for the growth, reproduction, and color of many corals. Knowing exactly what is in your tank's water will help you troubleshoot issues, see what is missing from the water that may be inhibiting coral growth and coloration, or simply help you make educated adjustments to give your corals the best possible environment to thrive. With the ICP Mass Spec you can now have access to a dosing calculator for popular trace elements.
Is this test only for aquarium water?
Certainly not. It is beneficial to test your drinking water to ensure that chemicals, metals, or other harmful elements are not ingested by your family or pets.