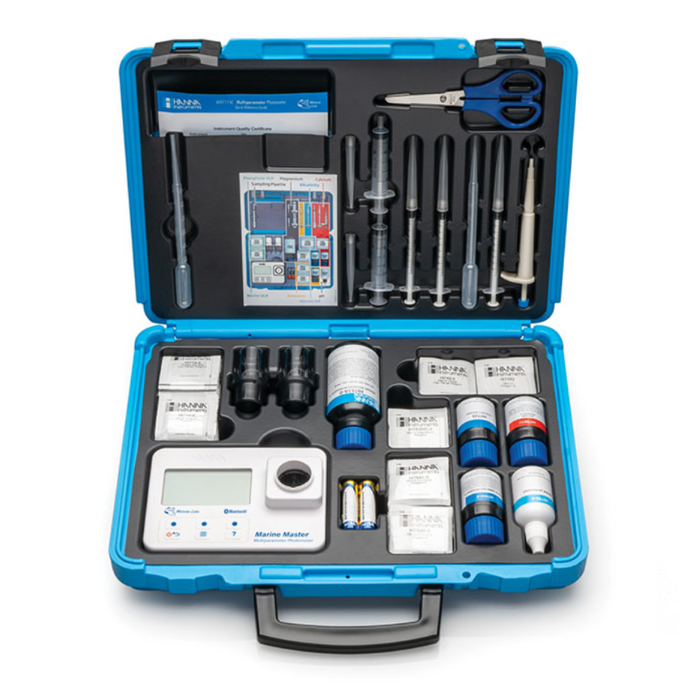 Marine Master Waterproof Wireless Multiparameter Photometer | Hanna Instruments
Original price
$449.99
-
Original price
$449.99
The HI97115 is a compact and versatile Marine multiparameter photometer designed to accurately determine pH, Alkalinity, Ammonia, Calcium, Magnesium, Nitrate, Nitrite, and Phosphate levels in aquariums and marine biology applications. The photometer is suitable for field and bench measurements.
The HI97115 can be used as a stand-alone photometer or can be connected to the Hanna Lab App with a compatible smart device via the integrated Bluetooth®module. When connected, Hanna Lab App functions include measurement with the ability to add notes, data logging with extended storage capacity, data sharing, and the ability to create and save method groups.
No warm up time needed before taking a measurement.
Tutorial mode for easy step-by-step instructions.
CAL CheckTM for performance verification and calibration.
The photometer has an advanced optical system that uses a Light Emitting Diode and a narrow band interference filter for accurate, repeatable readings. The optical system is sealed from outside dust, dirt, and water.
The meter uses an exclusive positive-locking system to ensure that the cuvettes are placed into the holder in the same position every time.
With the CAL Check™ functionality, users are able to validate the performance of the instrument at any time. CAL Check™ cuvettes are certified against NIST-traceable reference instrument(s).
The built-in tutorial mode guides users step-by-step through the measurement process. The tutorial mode includes all steps required for sample preparation, the required reagents and quantities.
Suitable for field or bench measurements, the photometer features:
Test capabilities for 9 parameters using 1 device
NEW! Comes with free Hanna Lab app, connects via Bluetooth for easy data tracking, exporting and analysis
Sophisticated optical system
Meter validation using certified CAL Check™ cuvettes
Tutorial mode guides the user step-by-step
Option to assign locations to logged readings
Auto logging
Waterproof IP67. The case and device both float on water.