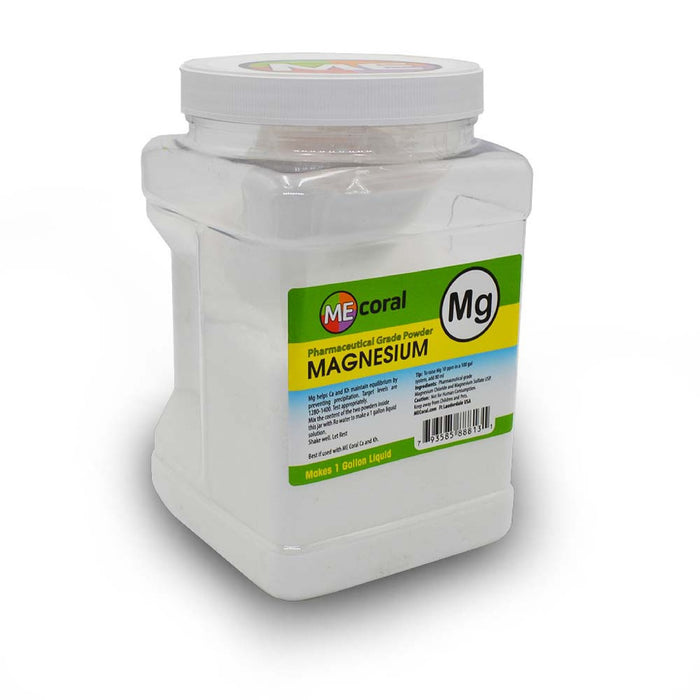 Magnesium Powder (1 gal) | ME Coral
Original price
$24.99
-
Original price
$24.99
MECoral Magnesium (Mg)  powder is pre-measured to make a gallon liquid solution when mixed with RODI water.  MECoral uses only Pharmaceutical grade ingredients to achieve the highest quality, highest purity, and highest concentration possible.  MECoral Mg is ammonia, phosphate, nitrate and bromide free. We use a unique blend of pharmaceutical grade Magnesium Chloride, and Magnesium Sulfate powder.  MECoral powder dissolves quickly and crystal clear with no residue or impurities on the bottom.
Magnesium (Mg) is important in helping Ca and Kh interact properly. If Mg is low, Ca and Kh levels will not properly be maintained as they precipitate out of aquariums. This causes the need to increase Ca and Kh to reach our target levels which wastes chemicals.  Target range for Mg is 1280-1380.  Test appropriately.  Often when Ca and Kh levels become unbalanced it is due to low Mg.  For best results, MECoral Mg should be used with MECoral Calcium and Alkalinity.
Quick Guide: To raise Mg 10 ppm (1280-1290) in an aquarium with 100 gallons of seawater,  add 80 ml or 2.7 fl oz.  Test as needed.
Mixing instructions: In a jug, add a quart or so of Rodi water, then add the Mg Chloride(larger bag).  Shake well.  Now add the Mg Sulfate(smaller bag).  Shake well.  Gets slightly warm while shaking.  Add more water to make a half gallon of liquid solution. Let rest with cap open before use. Do not pour the powder in the jug before the water as this may produce clumping. If clumping occurs heat the outside of the jug with hot water . This will help dissolve the powder.  MECoral Mg should be crystal clear and at room temperature before using.
Ingredients:  Pharmaceutical grade USP Magnesium Chloride Hexahydrate, Pharmaceutical Grade USP Magnesium Sulfate Anhydrous
Caution: Not for human use or consumption.  Keep away from children and pets.  If swallowed, do not induce vomiting.  Drink water and call a doctor.
Return to Corals Unlimited home page