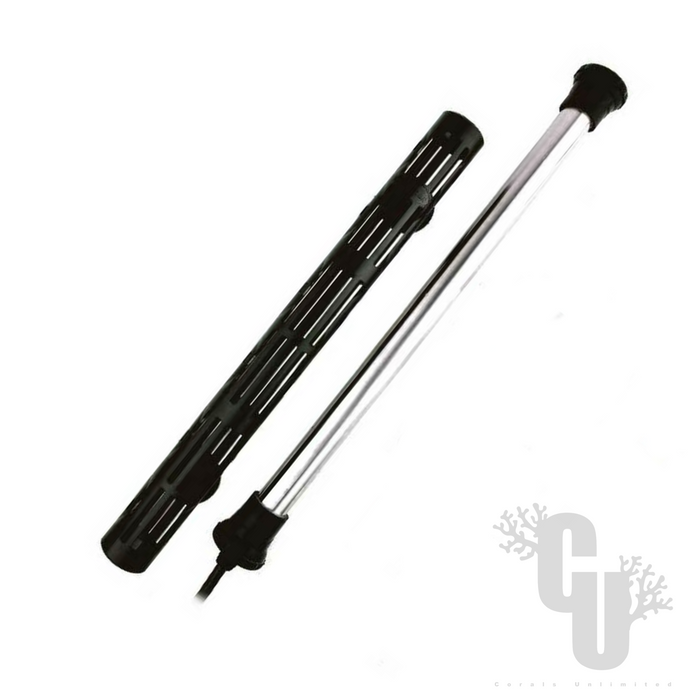 Finnex TH-S 300W Titanium Heater Tube
Sold out
Original price
$45.99
-
Original price
$45.99
THH Titanium Heating Tube
Virtually unbreakable titanium built heating element
Out of water sensor protection + audio alert
Corrosion resistant titanium
High temp resistant heater guard
The THH heater series are designed to be used with an external controller.  Warning:  THH heaters cannot be operated without a temp control unit.  Do NOT plug the heater into a wall outlet!
First Look at the Finnex Aquarium Titanium Heater
THH heaters have an internal sensor that detects when the heater tube is exposed to the air.  If the water level drops too low and exposes the heater, power to the heater is turned off.  This prevents over-heating of the aquarium, saving your prized aquarium life from harm.  The heater cord has a signal box with LED status liights.  Green means the heater is functioning as normal.  A red light indicates the low water switch has been tripped.  The heater is constructed of corrosion-resistant titanium, making it safe for freshwater and marine aquariums.  The titanium tube is virtually unbreakable and features a protective heater guard to prevent aquatic life from accidentally coming in contact with the heating tube.
Maintenance: The out-of-water sensor is located where the heating element meets the cord.  Always secure this position of the heater in a more-elevated position than the rest of the heater.  Clean and confirm out-of-water sensor is functioning properly every 30 days.  Do not use heater if out-of-water sensor is inoperable.
THH-300S 
Watt: 300
Amp: 2.7a
Rating: 40-80g
Power Cord: 6"
Controller to heater cord: 58"
tube length: 10.63"
THH-500S
Watt: 500
Amp: 4.5a
Rating: 70-130g
Power Cord: 6"
Controller to heater cord: 70"
tube length: 14.57"
THH-800S
Watt: 800
Amp: 9.0a
Rating: 140-285g
Power Cord: 6"
Controller to heater cord: 70"
tube length: 17.32"