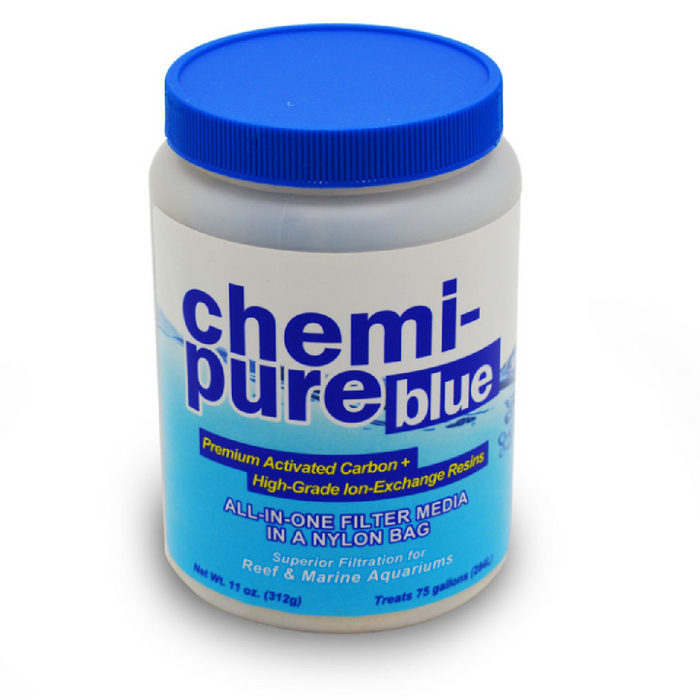 Chemi-Pure Blue 11 oz | Filter Media | Boyd Boyd Enterprises
Original price
$23.99
-
Original price
$23.99
Chemi-pure Blue is specially created for fantastic results in reef and marine aquariums. The new proprietary blend of premium, low-dust pelletized carbon and high capacity ion-exchange resins are skillfully combined to created a superior all-in-one filter media in a nylon bag. Chemi-pure Blue significantly reduces organic compounds and phosphates while raising redox and helping stabilize pH for a healthy, crystal clear aquarium.

Chemi-pure Blue BULK is the ultimate all-in-one marine aquarium filtration media, in an easy to use nylon bag, that offers superior filtration and fantastic results in even the most advanced marine reef aquarium systems. 
Keeps pH stable and constant
Reduces fish loss due to pH changes or polluted water
Keeps aquariums crystal clear
Provides positive neurological reactions in fish, mimicking a natural environment
Removes dissolved organics
Helps fish have a better appetite
Eliminates osmotic shock
Increases fish life span
Filters out coppers, metals, odors and phenol
Prevents ion antagonism
Use one 11 oz. unit for up to 75 US gallons.