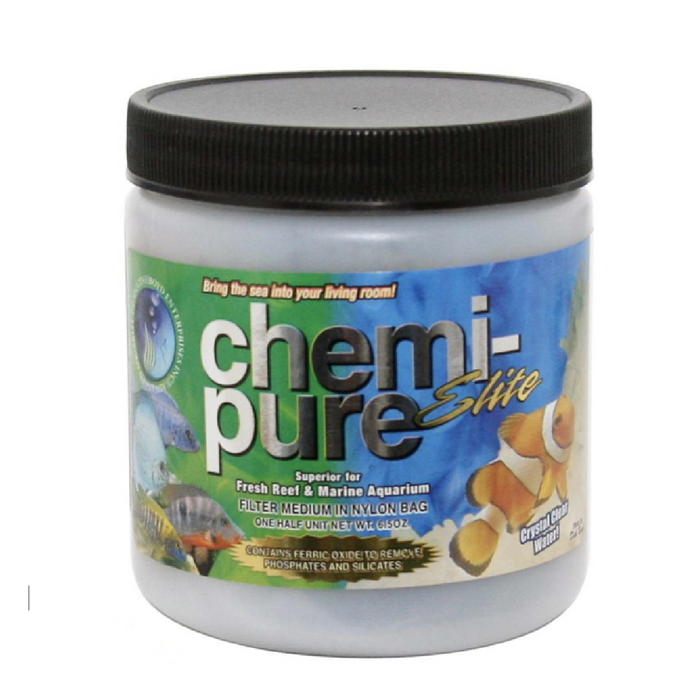 Chemi-Pure Elite 6.5 oz | Filter Media | Boyd Boyd Enterprises
Original price
$11.99
-
Original price
$11.99
Chemi-Pure Elite adds ferric oxide to the original Chemi-Pure formula to also remove phosphates and silicates, making it the only complete choice for filtering any kind of aquarium. With Chemi-pure Elite, we have taken the next step in keeping Chemi-pure the ultimate and complete choice for filtering your aquarium. Chemi-pure is the latest in aquarium science.

Beautiful Water with no Phosphates or Silicates, Maintains ionic balance for a more stable and healthier environment Removes toxins and offensive odorsImmediate acclimation Fish and invertebrates remain healthy and vigorous.
Key Benefits
Suitable for all water types so all aquarium fish can get the high-quality filtration they deserve. 
Encourages balanced and constant pH levels by removing chemicals and generating ions. 
Contains ferric oxide to help eliminate slime and phosphates to encourage a healthier environment. 
Packed in convenient polyester filter bags. 
Available in two sizes to cater to a variety of aquarium sizes.