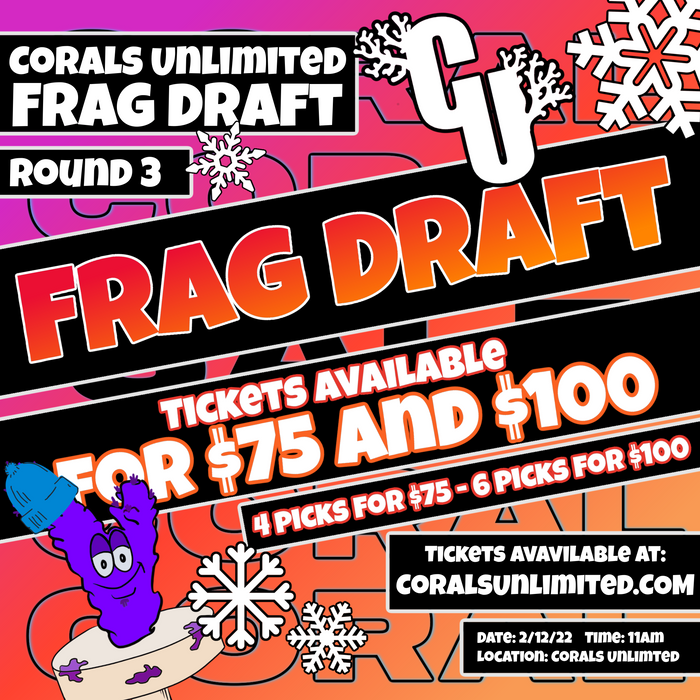 Corals Unlimited Frag Draft Tickets | Round 3
Original price
$75.00
-
Original price
$100.00
On 2/12/2022 Corals Unlimited will be hosting our third Coral Frag Draft. This event will be held at 11 am on 2/12/22 at Corals Unlimited (please note that you need to be present to participate). 
Date: 2/12/23
Time: 11am
Location: Corals Unlimited
Here's How the Coral Frag Draft Works:
There will be a dedicated table at Corals Unlimited for the Frag Draft tank. This tank will hold coral that has a retail value of $20 all the way up to $200 and will consist of softies, lps, and sps. Each participant will need to purchase either a $75 or a $100 ticket and/or multiples, if you wish.
Update: We will no longer offer "multi picks"  for multiple ticket purchases. You can still purchase more than one ticket but you will have to draw a number from a basket for each ticket purchased.
The $75 ticket will give you 4 picks from the coral rack. The $100 ticket will give you 6 picks. Each participant will draw a number from a basket at the beginning to see in which order people get to choose.
That order will be repeated until all the rounds are exhausted. You can buy multiple tickets if you wish, like stated above. Ticket purchases will be available until one hour before the coral frag draft. Please, if you plan to participate it will be helpful to place your order in advance.
If there is large crowd of participants we will have 2 racks of frags. If needed (depending on how many buy 4 rounds versus 6 rounds), once the first rack is mostly picked over (after everyone gets 4 rounds) the second rack will become available to those who purchased more picks. That way people who buy a $100, 6 pick tickets won't get stuck with left overs.
This is a great opportunity to get a high quality coral bundle for a killer price. $75 should get you on average about $120+ worth of coral and a $100 ticket should get you on average about $180+ worth of coral.